Select which family: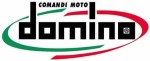 Domino controls (comandi) are made in Italy since the 1950's. Domino controls are found on most Italian mopeds, such as Arciero, Aspes, Baretta/Piccoli, Beta, Bianchi, Cimatti, Concord/Fantic, Demm, Gadabout, Garelli, Malaguti, Motobecane Sebring, Motomarina, Motron, Negrini, Pacer/Italtelai, Snark, late 80's Tomos, and Vespa/Piaggio. Other Italian mopeds had PV, OSL, or Ci.Ti controls. Domino has made, and still does make, many other high quality motorcycle controls.  
MMI Part Numbers: In 1982 the biggest USA moped part importer/distributor Marina Mobili Inc assigned Domino part numbers that began with "D". The "D" parts were for sale to the public through all moped dealers.
MM Part Numbers: Domino also made controls specifically for Vespa and Garelli. Those parts were only sold through Vespa or Garelli dealers. They never did have a MMI part number. Myrons Mopeds made up the "V" and "G" part numbers to agree with the corresponding "D" part numbers used by MMI. 
Families: The control parts are organized into families, based on the way the cables attach.
Brake light switch holes: Many non-US models do not have brake lights. So their Domino housings don't have threaded holes for brake light switches. Their Domino "70's chrome" levers do not come with the inner push plate that pushes the button on the brake light switch. Their lever blades do not have the extra little hole punched in them to anchor the inner push plate. Here all of the housings and levers are for US-models with a brake light, unless noted.
Prices: green means new. dark green means used, n.a. means not available. Used items are cleaned, lubed, checked and in good or usable condition unless stated otherwise. Control assembly prices do not include hand grips or electrical switches, unless stated otherwise.
Wrap-around type throttle: Some 1970's Domino right controls for mopeds have the wrap-around type throttle. The cable wire wraps around the twist tube. The throttle cable exits perpendicular to the handlebar. There is no sliding block, and much less tendency to stick. It requires a "double-ended" throttle cable inner wire with a soldered-on end piece that attaches to the twist tube. That makes the throttle cable not universal, since the inner wire exposed length is pre-set by the lead barrel end at the handlebar.
Sliding-block type throttle: Most 1970's Domino right controls for mopeds are the sliding-block type. The "universal" or "single-ended" throttle cable inner wire has no upper end piece. It attaches to sliding block with a small pinch screw. The twist tube (barrel) has a spiral slot that moves the sliding block sideways when the tube is rotated. The throttle cable exits parallel to the handlebar.
These throttles need occasional lubrication (oil or grease), or they become sticky and eventually wear out. Because the twist tube is steel and the sliding block is aluminum, it's the sliding block that wears out the most. Even with lubrication, a worn sliding block causes the throttle to stick, where it does not snap back when you let go. After 1978, they had a helper spring on the twist tube. This made them not stick as much, or not at all.