Select:
---

Moto FBM (Fabbrica Bolognese Motocicli) 224 Via Battindarno, Bologna, Italy was founded in 1951 by Vittorio Minarelli and Franco Morini, nephew of Alphonso Morini. The two young Italian engineers produced 125 to 250cc motorcycle engines for other makers. In 1954 Moto FBM made their first moped engine, the P2, a 48cc 2-stroke 2-speed cable-shift type, and later the P3 3-speed version. See Misc Italian, scroll to Moto FBM. In 1956 Moto FBM split into F.B. Minarelli and Motori Morini Franco. See Minarelli Motor.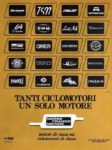 Motori Morini Franco 50cc engines have been used by (US brands in red): AIM, Aprilia, Arciero, Baretta, Benvenuti, Beta, Bianchi, B.M., BSA, Chiorda, Cimatti, Cosmo, Colt, D.M.T., F. Morini, Factory Bike (Spain), Fantic, Garelli, Husqvarna, Intramotor, Intramotor-Gloria, Italjet, Italvelo, Italtelai, ITOM, KTM. LEM, Macbor (Spain), Malaguti, Mecatecno, Monark, Motobecane Sebring, Moto Gori, Moto Meteora, Moto Müller, Moto Villa, Negrini, NVT, Omer, Oscar, Pacer, Paloma, Peripoli, Proxon, Rivara, Scorpion, Snark, Spisni Lino, S.W.M., Tecnomoto, T.G.M., Titan, TM Racing, Ufo, Velomec, Viking, West Wind. This 1979 ad proclaims "many mopeds, only one motor".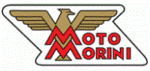 Moto Morini is not Motori Morini Franco. Moto Morini was founded in 1937 in Bologna Italy by Franco Morini's uncle, Alphonso Morini. Alphonso Morini was an accomplished motorcycle racer and mechanic. Since 1925 he was building motorcycles and setting world records. Moto Morini is most famous in the US for their 1970's 350cc V-twin motorcycle, Moto Morini 3½.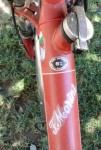 F. Morini is not Motori Morini Franco. F. Morini is a late-1970's US-model moped brand name, made by Lem. It had a Franco Morini MO1 engine.
Here "Morini" means "Motori Morini Franco".
Franco Morini Engines
50cc 1-speed automatic 
kick start MO.K, M1.K, M101
kick start S5.K, S5.K2, S5.R
kick start S5.N, S5.E, S5.T, S5.GS
kick start S6.E, S6.T, S6.S, S6.C, T1
with pedals F48, SA, MO, MO1, M1.P
for pedals F4, F5, S5
50cc 2-speed automatic 
kick start M101.K, RV.12V
with pedals MO2, M101.P
50cc 2-speed cable-shift 
with pedals P48, 2M, 2B
50cc 3-speed cable-shift 
kick start MO3, 3M/K
with pedals 3M, 3MV
ventilated 3MV/K, 3MV/Kd, 3CV
50cc 3-speed foot-shift
kick start GS3, G30, G303-ES, 3M/K
50cc 4-speed foot-shift 
kick start 4M, 4MP, 4M/R, 4MP/S
kick start MO4, TS/R4, T4, TA50
kick start GS, GSA, G304-ES
ventilated 4MP/V, 4MP/SV
50cc 5 or 6-sp foot-shift   
kick start 5ST/R, 6ST (serie U.C.)
65cc 6-speed foot-shift   
kick start M65-C
75cc 3 or 4-sp foot-shift   
kick start FM 75
100cc 4-speed foot-shift
kick start FM 101
125cc 5-speed foot-shift 
kick start FM 125