6.  

B I N G    A L L S T A T E     C A R B S
pic  Sears no.   description    size        price   notes 
1   050.1520 xxx $4.00 cable adjuster M5 – 0.80
2   050.1517 xxx $0.40 adjuster nut M5 – 0.80
3   050.1519 xxx  N/A   top cover outer M18 – 1.0
4   050.1518 xxx  N/A   top inner with tube bend M6 – 0.75
5   050.1531 xxx $10.0 throttle spring  Bing Sachs 8
6   050.1513 xxx $3.00 needle clip  Bing Sachs 6
6a 350.115.0141 $3.00 washer Bing Sachs 7   
7   050.1516 xxx  N/A    jet needle (state 1 or 2 marks)
7   sub.0516 xxx   none  jet needle 31mm 1-mark
8   050.1515 xxx $33.0 throttle slide (state number) Bing Solo 20
9   050.1555 xxx   none choke spring Bing Solo 18
10 050.1552 xxx   none shoulder screw Bing Solo 19
11 050.1529 xxx   N/A   spring clip for air filter
12 050.1540.2 x  none  air filter screen Bing Puch 43
15 350.415.0561   none cable nipple  Bing Solo 16
16 050.1559 xxx   none locking plate Bing Solo 17
17 050.1553 xxx   none choke slide  Bing Solo 15
18 050.1509/62    N/A   main jet size 62
19 050.1535 xxx  $1.50 screw M4 thin shank (2)
20 364.115.0322   N/A   float top with seat  also has primer/tickler
21 050.1536 xxx   N/A   float chamber gasket
22 050.1530 xxx   N/A   float needle (no bulb)
23 050.1525 xxx   N/A   float bulb (no needle)
24 050.10.1501    N/A   carburetor body bare
25 900.1107 xxx $0.50 hex bolt M6 x 25 (2)
26 24804 xxxxx  $0.20 plain washer M6 (2)
27 050.1521 xxx  intake gasket/heat block Encarwi Tomos 30
28 050.1508 xxx   N/A   needle jet (state number)  Bing Jawa 14,15
29 27071 xxxxx  $2.00 seal washer 10 x 14mm
30 050.1523 xxx  none  screw plug M10 – 1.0
31 050.1511 xxx $12.0 idle screw M4 – 0.7  Encarwi Batavus 9
32 24771 xxxxx  $0.40 idle screw nut M4 – 0.7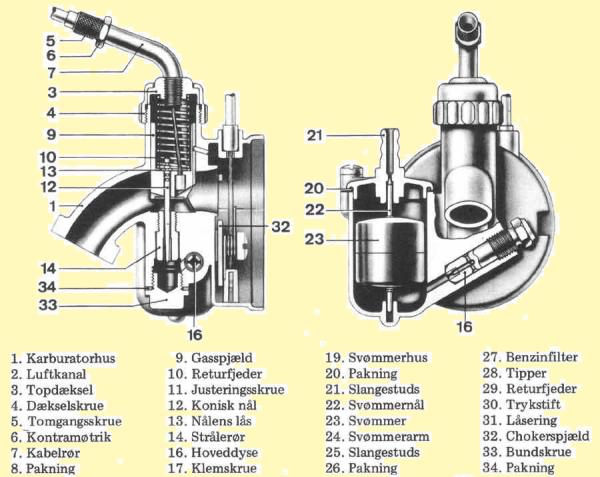 Here is a beautiful cut-away illustration from the Danish website veteranknallertklub.dk. The venturi is 12mm diameter. The curved pipe is about 13mm. The jet and jet holder are a single piece, like the Bing "early Sachs". The choke cable and plate are the same as Bing "Solo", with a "carb" end on the choke cable. The screw-on top cap is M18x1.0 thread and M6x0.75 cable elbow/stop, Ø14.5 slide with slot facing the intake (like other early Bings), and jet needle, are interchangeable with Bing "Solo" and Bing "Jawa or early Sachs".
From the left drawing, sliced vertically front to back, you can see the little pin that locates the throttle slide, near where the choke cable comes in at. Like the other early Bings "Solo" and "Jawa", the slot in the throttle slide faces the intake, so the throttle slides interchange (but not with "1970's Sachs" and "Kreidler"). 
Puch used this Bing "Allstate" 12mm carburetor on the MS50 (Moped Stahlblech – steel sheet) series from the 1950's to the 1970's. In 1969 Puch indroduced the Maxi moped, with an all new carburetor design. That carburetor, called Bing "Puch" or "round Bing" was in use from 1969 to 1986. It is way more familiar to Americans because of the moped buying frenzy in the late 1970's. In the early 1980's Puch developed their advanced technology future moped. But sales were down, and something like internal fraud contributed to Puch going out of business after over a century. If they had kept going, we would have an abundance of parts for the Bing "Austro Daimler" carburetor below.