5.  B I N G   J A W A   C A R B S
 Made for 1950's – 60's Sachs 502/2, 502/3 
 #  #  price    Jawa#       description                  
  1 23  N/A    09-140  air filter 
  2   4 $28.0 21-050  screw cap M18x1 Bing Solo 25

  3 00  N/A    35-922  float w/needle  bigger than Encarwi
     24  N/A    35-022  float only 
     26  N/A    47-120  float needle only
  4   2 $2.50 45-502  adj nut M6x0.75
  5   9 $22.0 46-042  jet needle 33mm 2-mark
     10  none  46-031  jet needle 31mm
  6   1 $5.00 50-042  adjuster M6x0.75
  7   8 $3.00 57-200  needle clip Bing Sachs 6
  8   6 $10.0 60-300  throttle spring Bing Sachs 8 
 8a  7 $3.00 57-023  plate/washer Bing Sachs 7
  9 20  N/A    61-469  air box clamp/clip
10 11  N/A    22-150  slide Ø14.5 "24" slot faces intake 
10 12  N/A    22-151  slide Ø14.5 "32" slot faces intake
10 12 $28.0 22-sub  slide Ø14.5 "16" Bing Solo 20
11 03  N/A    32-032-101 float lid w/seat
11a 5  N/A    65-720  seal ring
12 13  N/A    44-931-101/62  main jet 
12 13  N/A    44-931-101/64  main jet
12 13  N/A    44-931-101/66  main jet
14 14  N/A    45-111  needle jet 
15 15  N/A    45-112  needle jet
16 16 $2.00 65-143  seal washer 10 x 14
17 17  none  50-148  plug M10x1 
19 19 $35.0 26-625  filter cap metal, not replica
21 21  N/A    65-775  seal 
22 22  N/A    65-750  seal
     25  N/A    40-420  clamp screws (2)  on some versions
27 27 $3.00 49-020  cottor pin Bing Puch 31
28 28  N/A    40-430  locking screw
29 29  N/A    60-020  primer spring
31 31  N/A    48-925  primer/tickler
33 33  N/A    40-413  float screws (2)
34 34 $3.00 idle screw M5x0.8 Bing Puch 16
35 35 $3.00 idle screw spring   Bing Puch 17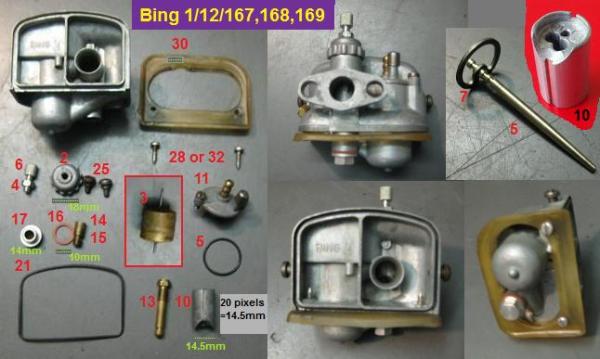 Originally all metal, this carburetor and intake silencer was made for the early Sachs 502 vertical cylinder moped engine, 1,2, or 3 speed, kick start or pedals, from the 1950's and 1960's. The name Bing "Jawa" should be called Bing "Sachs 502", since it fits those engines like a glove. Then Bing "Sachs" here should be Bing "Sachs 504/505 A", to be more correct, globally.
There is no choke slide that blocks the air like on other Bings. Instead the primer holds the float down until gasoline overflows into the venturi. That provides the rich mixture for cold starting.
Jawa used this classic German carburetor from 1979 to 1983, only after it was obsolete, and only on their highest power 1.7kW models. Those were the 40km/h (25mph) Supreme 2, type 207-394 (Babetta 207-504 in Europe), and the 50km/h (30mph) Supreme 3, type 207-392 (X 30 207-385 in Europe). All other Jawa Babetta models were 1.1kW or less, 40km/h (25mph) or less, with a smaller 9mm Jikov 2909 carburetors.
Apparently most, if not all, of the USA models of "Supreme 2" and "Supreme 3" have the 9mm Jikov carburetors, not the 12mm Bing. Of about 20 Jawa Supreme 2 and 3, found on the internet, all had 9mm Jikov carbs. Only the two at left had 12mm Bings. Yet the Bing "Jawa" carb is in the later 207-300 series American Jawa Parts Catalog.