Table of Contents
A.

Wheels for Sale
1.

Introduction


2.

Wheel Sets


3.

Rear Wheels


4.

Front Wheels


———-

——————  < p a r t i t i o n  >  —————————–
B.

Wheels on Display
1. brand

xxx

country  drum (mm)

xxxxxxxxxxxxxxxxxxxxxxxxxxxxxxxxxxx

wheel family

---
1.

Grimeca

xxxx

  Italy    90, 105


2.

 Bernardi

xxxx
  

Italy    90, 105


3.

 Piaggio

xxxxx

  Italy     90, 105


4.

 KTM

xxxxxxx

 Austria    90


5.

 Tomos

xxx

    Slovenia  90, 105


6.

ZCW

xxxx

xx

   China      105


7.

Columbia 

xx

 America   105


8.

Derbi

xxxxxx

  Spain      105

9

.

 

Leleu

xxxxx
 

France  70, 80, 100


10.

 Puch

xx xxxx

Austria       80


11.

Motobecane  

France       80




12.

Kreidler 

xx

Germany     80
1

3.

 General 

xxx
 

Taiwan   80, 110


14.

 Yuan Ta

xxx

 Taiwan       90


15.

 Mira

xxxxxx

 Taiwan      100


16.

 Sport Mag II

America 

80, 90
---
A.

Wheels for Sale
1.
Introduction
Welcome to Myrons Wheel Parts Department.  Moped wheels are organized here into families with the same size drum brakes. The "Grimeca" family has 90 or 105mm brake drums, with mostly single chain rear hubs. The "Leleu" family has 70, 80, or 100mm brake drums, with mostly dual chain rear hubs. The "Asian" family has 80, 90, 100, or 110mm brake drums, with all single chain rear hubs.  
All mopeds had spoke (wire) wheels until 1977, when die cast aluminum or magnesium alloy wheels (mags) came out. A "mag" wheel resists bending, and never has broken spokes. Through the 1980's there were both  "spoke" and "mag" wheels. But by the 1990's most mopeds had aluminum "mags".
Myrons has about 200 moped wheels, but the more popular ones are scarce. Most of Myrons wheels are in the "raw" state. That means they have not been serviced. Most used moped wheels have bad wheel bearings and/or bent rims and broken spokes. They all need at the very least fresh grease, cleaning, sanding the brake drum, lubing the brake cam. 
Some moped wheels interchange but most do not.  Using a wheel from a different moped is not as simple as swapping a car wheel. The brake anchor, the axle spacing, the rim centering, can all be different, resulting in things like tires rubbing and slowing you down, brakes not stopping good, a wobbly feel, or the chain coming off and damaging other things. When the wheel's inner axle length is too long, the wheel is difficult or impossible to get on or off. When it's too short, on the front, the front suspension becomes sticky or frozen as the axle nuts are tightened. When the brake anchor is too close to the frame, the brake rubs when the axle nuts are tightened. When it's too far away, the whole brake plate/panel can suddenly detach from the frame, and rotate with the wheel, wrapping the cable around the wheel, bending the brake arm, and freezing up the rear wheel. When your wheels function and fit properly, you will enjoy riding more, with a smooth, safe, solid, and fast bike.
Terms Used to Describe Wheels:
The wheels below are described by rim width x  rim diameter, and Ø drum diameter.
So a 1.35×16″ Ø90 is a 16 inch rim, 1.35 inch inner width, and a 90 millimeter brake drum. 
A 1-chain rear wheel has a motor chain on one side, and a brake on the other side.
A 2-chain rear has a motor chain and brake on one side, and a pedal chain and freewheel on the other side.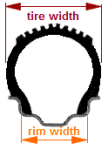 Rim Width is less than Tire Width 
1.20 rim takes a 2.00 or 2.25 tire
1.35 rim takes a 2.25 or 2.50 tire
1.60 rim takes a 2.50 or 2.75 tire
1.85 rim takes a 2.75 or 3.25 tire
---
2. 
Wheel Sets for Sale
.        W H E E L   S E T S        TIRES ARE NOT INCLUDED       SB=sealed bearing
17″ Puch spoke thin rims x  $280  xlnt condition/narrow Maxi rims/complete
17″ Puch spoke thick rims   $320  very good condition  click for image
---
3. 
Rear Wheels for Sale
.        R E A R   W H E E L S
wheel 16″R Garelli HD SS spoke xxx xxx  $230  new bearings/straight/heavy duty SS spokes
wheel 16″R Cimatti 42T 165 axle xx xxx  $210  xlnt bearings/straight/good chrome
wheel 17″R Colombia Open Road 57T xx  $150  all American made/SB/double chain/black
wheel 17″R Kynast Flying Dutchman 40T $180  brand new/shiney/needs fresh grease (included)
wheel 17″R Kynast Flying Dutchman 40T $150  xlnt bearings/straight/double chain/half bad chrome
wheel 17″R KTM Foxi 38T xxxx xxxx xxx  $100  good bearings/bent but useable/with brake panel
---
4.
Front Wheels for Sale
.        F R O N T   W H E E L S
wheel 16″F Italian spoke 145 axle xxxxx   $70  good bearings/straight/no speedo driver/bad chrome
wheel 16″F Cimatti spoke 145 axle xxxx  $100  xlnt bearings/straight/some spots of bad chrome
wheel 16″F Garelli VIP spoke 105 hub xx   $60  kinda straight/no brake panel
wheel 17″F Colombia Commuter 105mm $130  for sheet frame/3/8″ axle/SB/straight/rusty/complete
wheel 17″F Colombia Open Road 105mm $100  for tube frame/12mm axle/SB/straight/black/no brakes
wheel 17″F KTM Foxi spoke 145 axle xx  $120  xlnt bearings/kinda straight/fair chrome
wheel 17″F Vespa Ciao spoke 152 axle   $120  good bearings, straight, OK chrome, no speedo driver
wheel 17″F Vespa Ciao spoke 152 axle   $160  new, no speedo driver, spokes gray but rest is shiney
These are some of Myron's wheels. There are many more wheels not listed, Grimeca mags, other mags, Leleu, Motobecane, Tomos, Taiwan, Derbi. These wheels are still in the raw state. Most of them need service, usually truing and bearing greasing, sometimes replacing bearings and spokes. Once they are in a state that is ready to sell, they will be photographed, priced, and listed here. 
---
   B.
Wheels on Display
The purpose of the wheel gallery is to show and explain what every moped wheel is, who makes it, when, what it looks like, it's official name, and it's nick name. This is needed to identify wheels to get the right wheel parts, and to specify wheels when simply talking about them. It is also inspiring to see the wheels evolve over the years, and fun to see the all the styles and variety. Enjoy!
---
       

1.

Grimeca
Grimeca steel hubs or cast aluminum wheels (mags) are made in Italy. Grimeca is a world leader in motorcycle wheels, with many firsts, including the first disk brake, Ducati 1971, and the first light alloy wheel, Morini 1974.
Grimeca single-chain moped hubs and wheels are used on every Italian moped, including Baretta, Benelli, Bianchi, Cimatti, Colt, Concord, Fantic, Gadabout, Gitane, Intramotor, Maico, Malaguti, Moto Guzzi, Motomarina, Motobecane Sebring, Motron, Negrini, Pacer, Safari, Scorpion, Snark, Soni, Testi, and others, plus some non-Italian models of AMF, Colombia, NVT, Trac, Tomos, and others.
Grimeca double-chain moped hubs and wheels are used on Puch, Sears, Sachs, KTM, Kynast, Odyssey, Badger and others. There is a chain for the motor on the left, and a smaller bicycle chain for pedaling on the right.
---
Grimeca Spoke Wheels
Grimeca makes stamped-steel hubs for spoke wheels in 90mm and 105mm brake drum sizes. See Wheel Parts for the various hub and axle sizes and spacings. 
Most older Grimeca wheels have 11mm threaded axles, cones, cups, and loose balls. Some are 12mm.
Most newer Grimeca wheels have 12mm smooth axles that slide out, and one-piece sealed bearings.
There are many more Grimeca spoke wheel hubs not shown. See Wheel Parts for more. 
---
Grimeca

Razze Incrociate

aka

Snowflake
---
Grimeca

7 Razze

aka 

7 Ray
This wheel has rays with an "H" or "I beam" cross section, for strength.  
---
Grimeca

10 Razze

aka

5 Star
The 1970's had Razze Incrociate (snowflake) while the 1980's had 10 Razze (5 star).
---
Grimeca 3 Razze 

aka 

Crescent
This wheel was not on hardly any US model mopeds. It is common in Italy on the step thru 50cc 4-speed motorcycles that look like mopeds on steroids.
---
Grimeca

5 Razze Parallele

aka

10 Ray
In the 1980's and early 1990's, Piaggio used their own 4-ray wheels on the Ciao, but they were 16 inch, not 17. In 1982-1994 these 17 inch Grimeca 5 Razze Parallele were on the Ciao PX. Then after 1994 the Ciao had a aerodynamic curved 17″ 3-ray, followed by a aero curved 17″ 5-ray wheel design. 
---
Grimeca 6 Razze Parallele aka 

6 Ray
---
Grimeca

5 Foro 

aka 

5 Hole
---
Grimeca 6 Razze Elica

In the 1990's some Peugeot mopeds did not have a 2-chain rear wheel anymore. The Peugeot Vogue had pedals, but the 103SPX did not. The pedals, pedal chain and freewheel were eliminated, allowing for bigger wheel bearings. The motor chain was relocated from the left to the right side. The rear brake remained on the left, but was not inside the sprocket anymore.
---
       
2. 
Bernardi
Bernardi Mozzi Motor (BMM) made high quality cast aluminum moped wheels. BMM also made motorized bicycle engines, whole mopeds, and components for motorcycles and bicycles.
In the 1970's they made many cast plastic BMX wheels size 20 x 1.75. Since the late 1970's they have made many cast aluminum wheels for mopeds, bicycles, and motorcycles. More Bernardi info is here: http://cybermotorcycle.com/euro/brands/bernardi.htm
Out of the 200 Southern California moped wheels that Royal Cyclery had, and the 200 wheels that Myrons Mopeds has now, none or almost none were Bernardi mag wheels. In a sample of 100 Italian mopeds from Southern California that were stripped out for parts, 75 would have Grimeca spoke wheels, 24 would have Grimeca mag wheels, and 1 would have Bernardi mag wheels. In Maryland or New York those numbers might be more like 70, 22, and 8.  
Bernardi

 9 Dual Ray, 6 Dual Ray, 12 Ray
---
Bernardi 

7 Ray
This Bernardi wheel has rays with a "+" shaped cross section. The Grimeca 7-Ray style above has rays with an "H" cross section.  
---
Bernardi 

V-Ray 
This wheel came out in 1981.
---
Bernardi 

5-Star-curved
---
Bernardi
5-Star-slanted
These were on 1990's models.
---
Bernardi 

3-Ray
---
      
3.
Piaggio
Piaggio 

4-Ray
The Vespa Si, made by Piaggio, first had these high quality wheels in 1980. They were used on many other worldwide Vespa mopeds into the 1990's. But in the USA they were only on the 1980-86 Vespa Si.
---
Piaggio 

5-Ray 2000's
---
     4. KTM

From about 1978-85 KTM made it's own cast aluminum wheels for mopeds and small motorcycles. In the US they were only on the Foxi Baron model (more deluxe than the Foxi Deluxe). 
---
       
5.
Tomos
Tomos (now Slovenia, formerly Yugoslavia) made their own Grimeca compatible cast aluminum hubs and stamped steel brake plates. Their early mag wheel models, 1979-85 Silver Bullet and 1986-88 Golden Bullet, used Grimeca wheels. After 1988, Tomos made their own high quality die cast aluminum wheels. In 1996 Tomos mag wheels went from 90mm drum brakes to 105mm. They made two 105mm wheel styles "Slot' and "10-ray" in three colors, silver, black, and gold. From 1998 to 2007 they would alternate wheel styles each year. After 2007, Tomos used super high quality aluminum wheels made by Zong Chen Wheel (ZCW). Those 16″ wheels came in silver or black, narrow or wide. The wide front ZCW wheels had a disk brake, on the Streetmate-R model.  
 

Tomos (early) Spoke
---
Tomos 

Web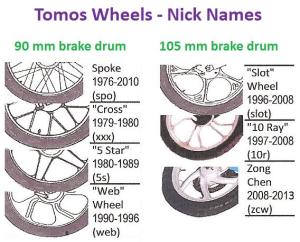 ---
Tomos 

Slot
---
Tomos 

10-Ray
---
       6.
ZCW
ZCW makes high quality die cast aluminum wheels for Tomos mopeds from 2008-13 and beyond, and for many makes of automobiles and motorcycles worldwide.
---
     7. 
Columbia
Columbia mopeds were made in America. They had heavy duty stamped steel Grimeca spoke wheel hubs. They made their own brake shoes and brake plates, also stamped steel. The original steel brake shoes interchange perfectly with cast aluminum Grimeca 105mm brake shoes, or aftermarket compatibles.
---
       

8.

 Derbi
Derbi Variant SL 
Derbi mopeds are made in Spain. They have mostly Spanish made components. Their cast aluminum hubs with straight pull spokes have 105mm brake drums. The Derbi brakes Ø105 x 25 are wider than Grimeca Ø105 x 20, but have the same camshaft and pivot shaft centerlines and widths. So a Grimeca 105 mm brake shoe will fit a Derbi, but is not retained as well, with 5mm of sideways freedom.  
---
Derbi Variant SLE
Derbi mopeds are heavy duty with sealed bearing wheels, 12mm smooth axles that slide out, and motorcycle style chain adjusters.
---
Derbi Variant Sport
---
      

9.

 Leleu
Leleu Spoke Puch
---
Leleu Spoke Peugeot
---
Leleu Spoke Motobecane
---
Leleu Spoke Honda Hobbit
The Honda PA50 Hobbit was made in Belgium by Honda Benelux (Belgium Netherlands Luxemburg). The wheels are a curious mix of components, Belgian rims, German VDO speedo sender, French Leleu hubs, Japanese Honda brakes and sealed bearing front axle. The rear hub and drivetrain design is like Italian Piaggio, except for the design of the rear brake shoes. Both front and rear drum brakes are 80 x 18mm Leleu type, or EBC322 aftermarket. 
---
Leleu-Rigida Mag
Leleu made "5 star" mags with Rigida steel rims.
---
       10.
Puch
Puch made these cherished "5-star mags", that say "Puch II  E 1.35 x 17". They are for a 2.25-17 tire. There were also 16 inch ones, for the AD model. Later in the 1990's there were remakes of these.
---
       11. 
Motobecane
Motobecane also made "5 star" mags.
---

      12. 
Kreidler
---
      

13.

 General
General, Lazer, Clinton, Jui Li, Grycner, and clones generally have 80 mm hubs.
Exceptions are foot brake rear, and late AMS. Those hubs are bigger, 110 mm 
The 80mm hubs use Honda NC50 Express brake shoes (EBC301) and components.
The 110mm hubs use Honda C70 Passport brake shoes (EBC303) and components.
These are General models with front and rear hand operated brakes. They had 80mm rear and 80mm front hubs.
These are General models with front hand, and rear foot brake. They had 110mm rear and 80mm front hubs.
The first one is an AMS model with front hand, and rear foot brake. It had 80mm rear and 80mm front hubs.
The last three are AMS with front hand, and rear foot brake. They had 110mm rear and 110mm front hubs.
---
Side-by-Side Comparison of  Taiwan Moped Hubs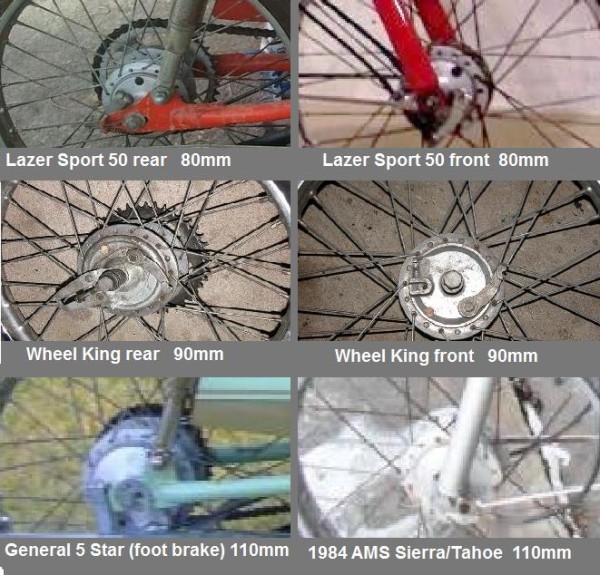 ---
      

14.

 Yuan Ta 
Yuan Ta made aluminum 90mm hubs for Indian and Trac. They had 12mm smooth axles that slid out, and one piece sealed bearings.
The 4 bolt sprocket did not interchange with Italian ones.
These replacement wheels (for sale in the Indian Parts) are 1.35×17, thinner than the original 1.60×17.
---
      

15.

 Mira 
Mira Enterprises in Taiwan made the 1981-later Indian, and also made these beautiful die cast aluminum snowflake wheels for the Indian, starting in 1979.
---
      16.
 Sport Mag II
Sport Mag II die cast wheels were made in Placentia CA, only six miles from Myrons Mopeds in Fullerton CA. They are all the same 8-ray casting. The center was made with four different machining versions, to match the drum diameter, bearing diameter, left-right spacing, sprocket bolt pattern, and speedometer slots of many popular mopeds, Kreidler/Puch/Sparta, Indian, Peugeot, Motobecane. The wheels were sold bare, without any axle parts, as an upgrade for mopeds that had wire spoke wheels. You took the axles, bearings, and brakes off the spoke wheels and put them on the Sport Mag II wheels. After that you never broke a spoke and hardly ever bent a rim!  
These were offered in black and silver, or all silver finish. So there were 8 different wheel sets produced in the early 1980's. Marina Mobili sold these to moped dealers across the USA. Tri-Rad used these wheels on their 3-wheel moped. Murray used them on their deluxe model. Indian offered mopeds with the "8-Ray" Sport Mag II wheels already equipped. 
Marina Mobili Accessory Wheels 1984
A-29K  Sport Mag II wheel set for Kreidler/Puch/Sparta
A-29I   Sport Mag II wheel set for Indian (shown)
A-29P  Sport Mag II wheel set for Peugeot
A-29M  Sport Mag II wheel set for Motobecane
.
---
3.

Sealed Bearing Upgrade
Sealed bearings are better than loose balls. Sealed bearings can last longer and carry more weight. They're used on motorcycle wheels. Loose balls roll slightly more freely. They're used on bicycle wheels. Mopeds have both kinds.
Sealed bearing upgrade: Any loose ball kind can be upgraded to sealed bearings. If the hub center is 28, 30, or 32mm then no sleeves are needed. These size bearings exist, bearing number 6001 is 12 x 28, 16101 is 12 x 30, and 6201 is 12 x 32mm. A precise 12mm shaft-type axle replaces the original 11 or 12mm threaded one. A center steel tube is custom made to fit tightly between the bearings. Other short tubes are custom made to space out the axle. Myrons sells the bearings, axle, and nuts, but not the exact right spacer tubes. You can slice sections of a steel pipe 1/2″ ID, 5/8 to 3/4″ OD. When your wheel hub center is not 28, 30, 0r 32mm, then sleeves must be custom made to make a smaller bearing fit tight and solid in the wheel center. On a Puch spoke wheel the hub is 29mm and the bearing 6001 is 28. That's only 1mm difference in diameter, or .5mm in thickness. Because they're so thin they deform easily when pressed in. At home you must settle for a thin strip of metal, wrapped in a circle, that's loose enough to go in straight. But then it can work loose and come out.
Myrons offers the sealed bearing upgrade service for Puch rear Grimeca "Snowflake" mag and the Puch/Sparta/Kreidler rear Leleu spoke wheel aluminum hub. For the Leleu Myrons has 28 x 29mm precision aluminum rings, with an inner installation lip, in slightly different thicknesses, with precision 28 x 29mm installation tools, to get a tight fit without bending. For the Grimeca Myrons has 30 x 28 aluminum sleeves, with both an inner installation lip and an outer retaining lip. The installation lip prevents the sleeve from slipping out. Some aluminum hubs need thicker shims because they have been deformed by heavy use. Lastly, if the old axle was 11mm, then the 11mm brake panel axle hole must be drilled to 12mm. Cost for the wheel bearing upgrade is $150-170 parts and labor plus any brake service or spoke adjustment/rim truing. If the hub is badly damaged (flared out or eroded away in the bearing area), there is additional cost.