Welcome…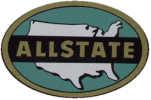 Sears stores sold the Allstate line of motorcycles from 1954 to 1968. Of course, Sears does not make the products they sell. The Sears Allstate 50cc Mo-Ped was made by Puch. The Sears Allstate 125cc scooter was made by Vespa. The Sears Allstate 250cc motorcycle was made by Puch (nicknamed Puch Twingle). There was also Allstate insurance, automobiles, tires, auto parts and accessories, garage door openers, fire extinguishers, and other products with that name. 
The name Allstate came from a contest held by Sears in 1925. From http://www.searsarchives.com/brands/allstate.htm, "The Allstate brand began in 1925 as part of a national contest to name Sears' new brand of automobile tires. Public response in the contest was overwhelming. Before it was over, 937,886 people submitted a total of 2,253,746 names. Entries came from every state and in 25 different languages. Hans Simonson of Bismarck, N.D., received a $5,000 cash prize for his winning entry Allstate."
Some Sears Allstate Mo-Ped (and early Puch or Tomos compatibles) parts can be found at Motor West Motorcycles in Milwaukee Wisconsin USA: http://motorwestmotorcycles.com/.