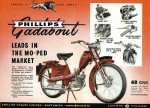 Gadabout (UK)       

made in England by Phillips

   
The word "gadabout" means wanderer. The Phillips Gadabout was a popular 1950's – 1960's English moped. That kind of Gadabout moped is not included here.
---
   Gadabout (US)       

made in Italy by Moto BM

        Minarelli V1 engine
Moto BM was started by Mario Bonvicini in 1950. BM first made bikes with Ilo 125 -175cc engines, then later with Morini and Minarelli engines 50-125cc.
Minarelli: All of the US-model Gadabout mopeds have Minarelli V1 moped engines, limited power 50cc one speed automatic with internal pedals.
Holiday Rambler: One of the earliest Gadabout moped sold in America was the 1978 Gadabout MK IV by the Holiday Rambler Corporation, made in Bologna, Italy by Moto BM (Bonvicini Marino). It was originally sold on the back of Holiday Rambler RVs to be ridden around campsites.
Almost all of them have no stickers left, because they cracked and fell off. That was the only thing that Gadabout owners were not glad about.
Robcor: At some point later, the Robcor Inc. in Plymouth, Virginia USA sold Gadabouts, both two and three wheelers, in 1979-80. 
The frame changed in 1980. You can see the 1978-79 frame is different than the 1980-81, in the area behind and below the seat.
The green and silver 1980 Gadabout is the same bike and same paint colors as a 1978-79 Pryer Gadabout.
The Gadabout trike moped is the same frame as a Pryer Gadabout trike. From the seat forward the bike is made in Italy by BM. The rear end is made in USA, most likely in Ohio by Pryer.
Gadabout components: Minarelli V1 engine 20(1.0hp), 25(1.5hp), 30mph(2.0hp) versions, Dellorto SHA 14/12 (or 14/9) carburetor, CEV lights and switches, Domino controls and levers, Grimeca hubs and brakes, CEV 6932 magneto, CEV speedometer with LH driver, and CEV reflectors.