Contents:
1.

Zanetti Mopeds
2.

Zanetti C50/2 Parts Catalog
1.

Zanetti Mopeds
---
Officine Meccaniche Zanetti in Bologna Italy made 50cc motorcycle engines and motorized bicycles from the early 1960's to the late 70's.
---
Bicizeta: In the 1960's Zanetti produced the popular Italian motor bike Bicizeta (bee-see-zet-uh) with the Zanetti C50/2 front engine. It could be pedaled or motored, or both. It folded in half to fit easily into most car trunks. The gas tank is above the engine below the handlebar. The headlight is molded into the gas tank.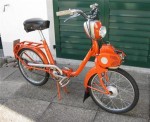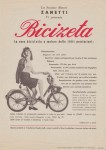 1970 Zanetti Bicizeta with C50 engine (Euro model)
1960's Bicizeta sales flyer in Italian (Italy model)

Ci.Te. right control on 1965 Zanetti Bicizeta
---
C50/2 front engine is a friction drive, pull start, 42 cc automatic.
It produced 0.7 hp at 3750 rpm, and went about 19 mph.
Bore 38, Stroke 37, Size 41.96 cc, Compression ratio 7.64:1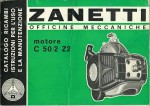 ---
Pumita: From about 1963 to '72 the Bicizeta was remade in Cordoba, Argentina by Lujan HNOS S.A.I.C. It was called Pumita (little puma). Some versions had less chrome. Some had different controls.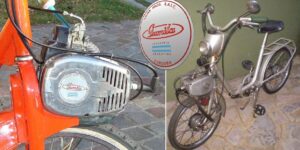 '63-72? bicimoto Pumita (Argentina model)
---

First American Bicizeta: In 1964-65 First American Bicizeta, Inc began importing to the US the popular Italian motorized bicycle Bicizeta.
Euro and US versions: The Euro-model Bicizeta had an internal spark coil, no brake light and a small tail light. The US-model version sold in the late 60's and early 70's had an external spark coil, a brake light (powered by the ignition source coil ground), and a large tail light.
There are no photos or flyers available. So which Bicizeta version is unknown.
---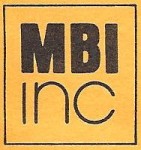 MBI: Some time in 1965-68 First American Bicizeta became Motor Bike Imports (MBI) 6005 S Route 130, Pennsauken NJ 08110. MBI created the Safari brand name. In the late 70's Safari became a popular brand sold at eastern US moped shops, mostly New Jersey, Maryland, Pennsylvania and Florida. 
Safari Scat: In 1968-69 MBI contracted MZV of Bologna Italy to produce mini-bikes and mini-cycles using the Zanetti engines. They were given the brand name Safari Scat. Apparently the Safari Scat mini bike line of the early 1970's included or became street legal full size mopeds with off road tires and fenders by around 1979. There are currently no pictures or details of those early Safari Scat mini bikes. There is only this 1979 Safari Super Scat, a top tank moped with Minarelli V1 engine.
---
Bicizeta: From about 1968 to 1974 MBI sold the Zanetti Bicizeta: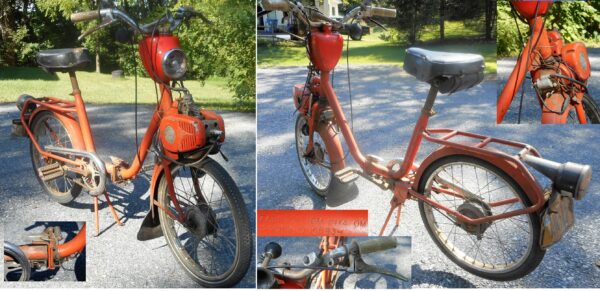 1968 Zanetti Bicizeta C50-2 (US model) from Gary Boettcher in PA
Tires: 20 x 1.75 (bicycle)
front tire needs a smooth flat top to last longer



Controls: Ci.Te. same as this '68 Lambretino, sliding-block



Ci.Te. bottom view, Ci.Te. and Domino levers compared
Cables: all 1-ended, throttle, decomp, front brake, rear brake
Hubs/Brakes: 70's Grimeca 90 x 18 mm, Grimeca pinch bolts
axles M10?-1.0 threaded
Spokes: 36 front and 36 rear, both 3-cross 171 x 2.5 mm
Electrical: external ignition ground powers the brake light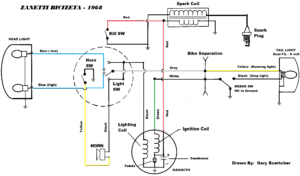 the green engine wire must go to ground to have spark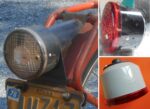 Tail Light: CEV 9313 with 6V 3/15w or 6V 5/18w bulb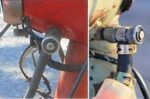 Petcock: knob? type, horizontal, M12-1.0 thread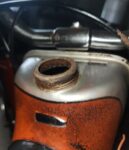 Gas cap: internal thread screw-on 40mm?
---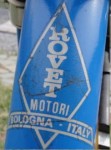 Safari Rovet: In the early 1970's MBI went in partnership with an Italian engineer and started their own bicycle manufacturing company, named Rovet. In 1975 Rovet made the Safari Rovet, using the Zanetti front engine. Unlike the Bicizeta that was a folding step-thru frame, the Rovet was non-folding. It produced 1 hp, went about 19 mph, and was DOT approved for US streets.
Fuel pump: The Rovet gas tank was the main frame tube, with a petcock down near the pedals. The fuel tank is lower than the engine, and so a fuel pump is required to supply fuel to the carburetor. A supply hose from the petcock goes to the pump. A hose from the pump goes to the carburetor. The Dellorto SHA float type carburetor only lets fuel in when it is needed. The excess fuel supplied by the pump is returned back to the fuel tank. So a return hose goes from the carburetor to the top of the fuel tank.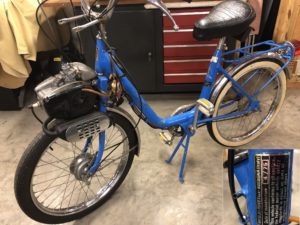 1975 Safari Rovet, headlight removed
Safari Fox: Not long after the Rovet was introduced, it was improved and renamed Fox. A top cross bar was added that kept the frame from bending under heavy loads, like jumping curbs or hitting pot holes. That made it necessary to swing your leg over the back of the bike to mount and dismount it. It was no longer a step through design.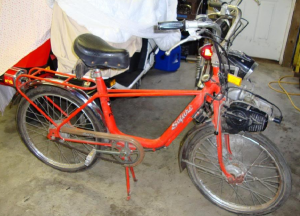 1976 Safari Fox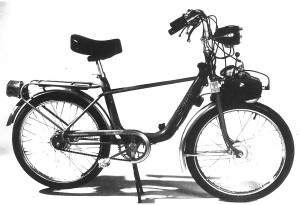 1976 Safari Fox
2.

Zanetti C50/2 Parts Catalog
---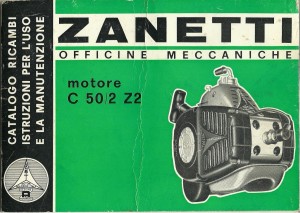 Catalogo Ricambi (Parts Catalog)
Istruzioni per L'Uso (Owners Manual)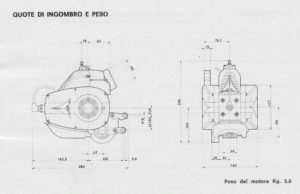 Quote de igombro e peso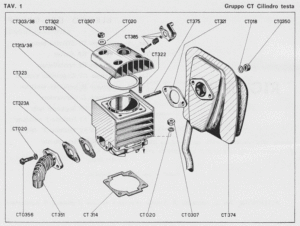 1 Cilindro testa (cylinder head)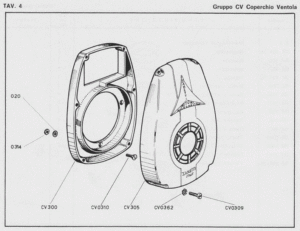 4 Copercio ventola (vented cover)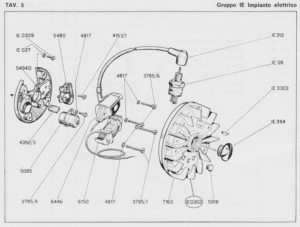 5 Impianto elettrico (magneto)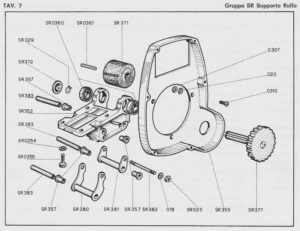 7 Supporto rullo (roller support)