Select: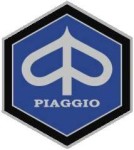 ---
History
Welcome Vespa scooters and mopeds were made in Italy by Piaggio. Vespa is a division of Piaggio, like Chevrolet is a division of General Motors. In the USA the bikes were branded as "Vespa" but in most countries they were called "Piaggio". The brand name Vespa was used up to the 1980's.   
Scooters and Mopeds: Piaggio made scooters from 1947 to present, and mopeds from 1967-2006. Only mopeds are covered here. Mopeds have a front engine and large thin tires. Scooters have a rear engine and small wide tires. 
History: Founded by Rinaldo Piaggio in 1884, Piaggio first made railroad locomotives. In WWI and WWII they made military aircraft. They still do make aircraft and many other machines. After WWII they transitioned to civilian necessities, like motor scooters. The first Piaggio Vespa scooters had front suspension made from a light airplane landing gear. The first scooter wheels were aircraft wheels and tires. The stamped sheet metal body-frame was an aircraft design. They were named Vespa, which means "wasp" in Italian, because the two-stroke engine sounded like a wasp. The superior designs made the products light, efficient, affordable, convenient and safe. Soon Vespa became a worldwide motor vehicle manufacturer. By the 1970's the name Vespa became synonymous with motor-scooter, like Coke is with cola, or Kleenex is with facial tissue. Read more at https://en.wikipedia.org/wiki/Piaggio
From about 1968 to 1975 Vespa mopeds were imported to the US and distributed by Western Scooter Distributors, 1599 Custer St, San Francisco CA 94124.

From about 1976 to 1985 they were imported and distributed by Vespa of America Corporation, National Headquarters, 355 Valley Dr, Brisbane CA 94005.
Here are Myrons Mopeds old info sheet handouts. They were black and white copies on paper.