Motomarina  
made in Italy by Moto Meteora
  Morini M1, Minarelli V1,V1L,V1HL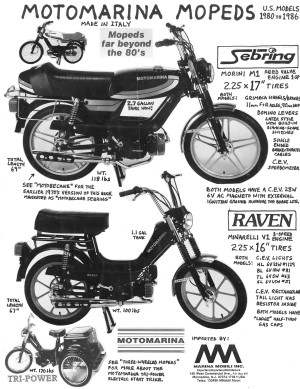 Motomarina is the brand name of Marina Mobili Inc (MMI).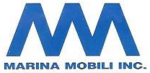 Motomarina Sebring: The old name was "Motobecane Sebring" in 1979-80, when it had a Morini MO1 or MO2 engine. See MB Sebring for that. The Sebring is one of the few Italian mopeds with 17″ wheels, most are 16″.
Here is a free Motomarina Sebring owners manual, courtesy of Lucky Two Strokes:
https://www.lucky2strokes.com/Free-Motomarina-Sebring-Moped-Owners-Manual-p/z_motomarina_sebring_manual.htm
Motomarina Raven: This excellent step-thru frame moped is made in Italy by Moto Meteora for Marina Mobili Inc (MMI), in Moonachie New Jersey. MMI imported and distributed them to moped retailers throughout the USA. The Raven has high-quality Bernardi cast aluminum 16″ wheels with Grimeca 11mm axles, 32mm-OD "standard" Grimeca bearing cups, and 90mm drum brakes, same as countless other Italian mopeds.
While most Sebrings had the case-reed no-fan aluminum-cylinder Minarelli V1-L one-speed automatic moped engine, the Raven had the older piston-port fan-cooled iron-cylinder Minarelli V1 (late) one-speed automatic moped engine. The Raven carburetor points forward and the intake goes into the cylinder (piston-port intake). The piston keeps most of the air from flowing backwards. The Sebring carburetor points sideways and the intake goes into the crankcase via a reed-valve (case-reed intake). The petals of the reed valve keep most of the air from flowing backwards. 
Before it was called "Motomarina Raven", the same bike, imported from Italy by MMI, was called "General TE". It had Italian spoke wheels. General was a 1979-1983 Taiwan made moped. MMI bought the General name in about 1984.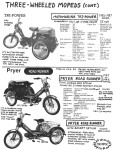 Motomarina Tri-Power  

 made in Italy + USA  

   Minarelli V1-LHE
Motomarina is a trade name made up by Marina Mobili Inc. (MMI). MMI imported the Italian-made Raven two-wheeler, and somehow got Pryer Motorcraft, 4563 State Route 235, Ada, Ohio 45810, to install their American-made rear end kits to make the Tri-Power three-wheeler. It is not known whether MMI bought Pryer, or if they hired Pryer to produce the Motomarina Tri-Power. 
Notice how the rear end with molded body is the same on the Pryer and the Motomarina, even though the frames and names are different. 
Motomarina Tri-Power components: Minarelli V1-LHE engine with electric start, Dellorto SHA 14/12 carb, CEV "pancake" headlight, CEV-Domino  integrated plastic switches, right side with start button. Domino "80's black" controls, CEV magneto with ring gear around flywheel, Grimeca front hub with 90mm brakes, special rear trike hubs with 105mm Grimeca brakes. See spec sheet below.