From I Love India .com:
Kinetic Motor Company Ltd. Kinetic Engineering is credited with bringing in India the concept of personalized transport. It is a part of the Firodia Group of companies, one of the pioneering groups in automobiles sector in India, founded in the year 1972 by Mr. HK Firodia, known as the doyen of the Indian Automobile Industry.
Kinetic Motors introduced the concept of personalized transportation in India in 1972 when it launched Kinetic Luna. Thereafter, it has been continuously serving Indian automobile industry.
In 1984, the company entered into a Joint Venture with Honda Motor of Japan, to produce advanced scooters in India. Both the companies introduced in collaboration a gearless scooter with advanced features like TLAD suspension, auto choke and auto fuel cork. In 1998, Kinetic bought the controlling stakes from Honda becoming the first Indian JV partner to buy out the foreign majority shareholder.
Kinetic has a dealership network of more than 400 dealers and authorized service centers across the country. It is a leading exporter of vehicles across the globe with thousands of vehicles exported to the United States, Canada, Latin America, Europe, Africa, the Middle East, South Asia, and Australia. It has bagged the Exports Excellence award nine consecutive years.
The company acquired Italiano series of scooters from Italjet Moto. The acquisition involved all global distribution rights as well as relocation of total production lines to India. Kinetic also has partnered with SYM Motors of Taiwan to produce some two wheeler brands.
Kinetic produces a complete two-wheeler portfolio which ranges from mopeds, scooterettes, scooters to bikes. Manufacturing plants of the company are at Pithampur (for scooters), Ahmednagar (for scooterettes and mopeds) and Koregaon (for bikes).
Kinetic Products:
Bicycles: Comet, Aquila, GF series, Stryker, Boss, Velocity
Scooters: Blaze, Zoom, 4S, Nova series, SYM Flyte
Mopeds and Scooterettes: Kine, Zing 80, Luna
Load Carrying Vehicles: V2, King
---

Soni 2
Soni 2 was an early 1970's moped sold in the USA, made by Kinetic. The non-USA version was called Luna. It is a remake of a 1968-69 Vespa Ciao C9E, with 19″ tires.
Soni 2 did not have the 1972 USA DOT equipment like the 1972 Vespa Ciao C7E did (tail light that shines to the sides, and a brake light that does not dim the headlight).
Paul Soni of America: Not many Soni's were sold in the US. Photos and literature are scarce. One or two of these pink Soni 2 parts labels is all that identifies Paul Soni of America Incorporated as the importer-distributor.

Kinetic Engineering Limited was the manufacturer, in Ahmednagar India, the label says.
Soni is not listed in any of the mid-to-late 1970's US moped hand books. Yet here is a photo of a 1979 Soni with USA lights and reflectors. On the '79 the seat support is moved forward where the frame is stronger, the fork is telescopic not cantilever, and the lights and reflectors are USA compliant.
---
   TFR
Kinetic TFR was a  1994-03 moped sold in the USA. The non-USA version was called Luna TFR. The TFR is essentially a Magnum but with a fixed drive pulleys instead of  variable "V-Drive". 
Cosmopolitan Motors was the importer to the US, in Hatboro Pennsylvania. During the 1990's Cosmo also had a sales office in Los Angeles. This flyer says the address: 10850 Wilshire Blvd #400 Los Angeles CA 90024.
Thousands of Kinetic TFR's were sold in the US, especially 1995 models. They had several colors, including purple, but black or red were the most common.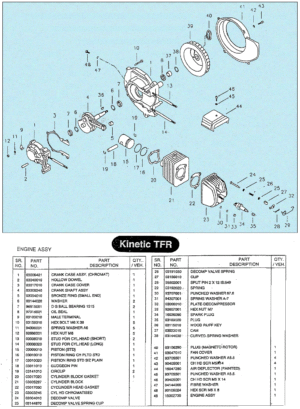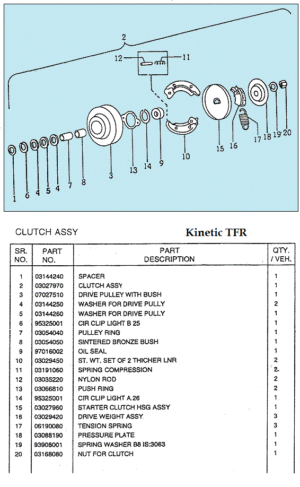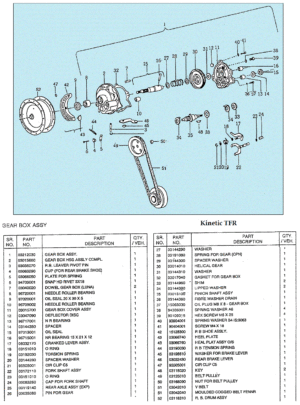 Kinetic TFR engine, transmission and gear box parts
TFR Parts list is from Moped Division free downloads:
---
   Magnum
Kinetic Magnum was a  1993-2000 moped sold in the USA. The non-USA version was called Luna Magnum. It had a variable (two speed) belt drive instead of fixed (single speed)
Mar-Cel Company was the importer to the US, in Clinton, North Carolina. The Kinetic Magnum has a stamped sheet frame and a Piaggio remake engine and drivetrain. It is similar to a 1980's Piaggio Si.
The 1993 Kinetic Magnum in the sales flyer below does not have any USA-required lighting and safety equipment. It's a two-person moped that says "V-drive" on the left (drive belt) side. 
Each of these Magnum photos shows a bulge in the left rear side cover. That identifies a Kinetic or a Piaggio as a variator model. Single speed models have no rear bulge or not as much.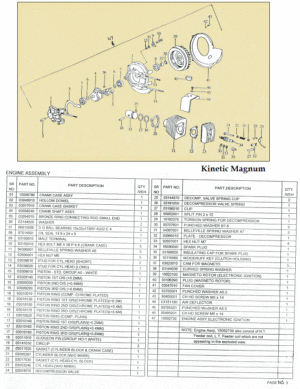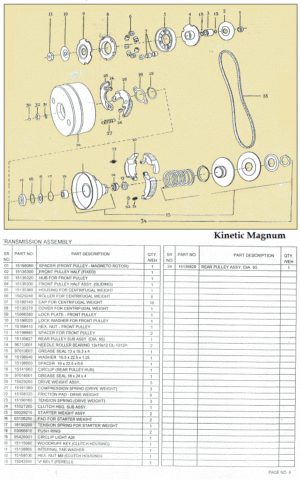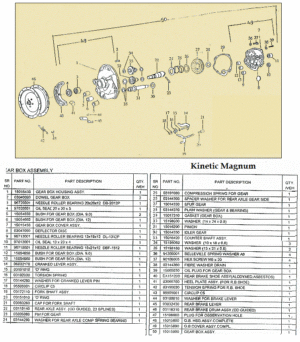 Kinetic Magnum engine, transmission and gear box parts
Magnum Parts list is from Moped Division free downloads:
---
   TFR-USA
Kinetic TFR-USA was a  1999-05 moped sold in the USA, imported by Cosmo. The non-USA version was called Luna Magnum.
Kinetic TFR-USA is a partial remake of a Vespa Si, with a variator (variable-diameter v-belt pulleys) drivetrain. That and an improved exhaust (longer header) allow a TFR-USA to take off faster and climb hills better than a non-variated TFR.
---
Kinetic Parts for Sale
Moped Division has most original Kinetic parts, for US models. 
Myrons Mopeds has most of the many Kinetic parts that are the same as Piaggio.
Kinetic and Piaggio part numbers: Kinetic parts listed below that are the same as Piaggio have blue Piaggio part numbers. Kinetic parts that are different from Piaggio have blue zeros. Kinetic parts that are not used on Piaggio have white zeros (blank).
fig qty  1 is TFR, 2 is Magnum, 3 is TFR-USA
fig 123 Piaggio# Kinetic#   price   Engine Parts
01 100 000000 03006421 none  case set TFR
00 011 000000 05006780 none  case set Magnum
02 111 000000 03040010 none  dowel tube Kinetic
03 111 112967 03017010 $5.00 case gasket
04 111 113708 03008240 $75.0 crankshaft with ∅12 bushing
05 111 120070 03054010 none  piston bushing use 5847
05 111 000000 00005847 $4.00 bushing 11.72 14.02 12.0 see note 1
06 222 113681 03144020 $3.50 crank washer 15.4 x 21 x 0.5
07 111 008753 96515001 $8.00 crank bearing 6202-C3
08 111 112978 97014901 $6.00 crank seal 15 x 24 x 5
09 111 155111 03100010 $2.00 case ground terminal
10 555 030055 03159310 $0.60 case bolt M6 x 38 (or 40) hex
11 555 006966 94306001 $0.25 case lock washer
12 555 020106 92606001 $0.30 case nut M6
13 222 000595 03038010 $3.50 upper cylinder stud M7 x 120
14 111 000595 03038020 $4.00 lower cylinder stud M7 x 129
15 111 000000 03009010 none  piston bare 38.4 x 12-20-16
16 111 000000 03010010 none  #1 ring 38.4 x 1.5-1.3 chromed
17 111 000000 03010020 none  #2 ring 38.4 x 1.5-1.3
18 111 132233 03000010 $7.00 piston pin 12.0 x 31.5
19 222 006612 03141010 $1.50 piston pin clip 12
20 111 152793 03017020 $4.00 cylinder base gasket
21 111 000000 03005287 $0.00 cylinder
22 111 000000 03017030 none  head gasket Kinetic
23 111 000000 03003246 none  head
24 111 113245 03004010 none  decomp valve
25 222 113247 03144870 none  spring cup
26 111 113242 03191050 none  valve spring
27 111 113246 03156010 $3.50 clevis clip
28 111 012768 95802001 $1.80 split pin 1.8 x 14
29 111 113242 03192020 $5.00 decomp spring
30 333 003057 93707601 $0.20 washer 7
31 333 020106 94307001 $0.50 lock washer 7
32 111 113243 03066010 $8.00 forked plate
33 444 020107 92607001 $0.60 head nut M7
34 111 121908 16036090 $3.50 spark plug NGK BR5HS
35 111 155475 03189020 $6.00 spark plug cap generic
36 111 000267 03115010 $2.00 flywheel key M96a
37 111 103137 03023010 $10.0 points cam
38 111 102943 03144030 $3.00 notched wave washer
39 111 000000 19022100 none  flywheel rotor Kinetic
40 111 102931 03106390 $3.00 rotor inspection plug
41 111 152040 03047100 $12.0 fan cover (used)
42 444 000000 93705501 $0.20 fan cover washer 5
43 444 S15585 90405001 $0.50 fan cover screw M5 x 14 (or 16)
44 111 121504 15047280 $9.00 air cover (used)
45 111 S13963 93705501 $0.20 air cover washer 5
46 111 S08455 90405001 $0.50 air cover screw M5 x 14 (or 16)
47 011 000000 15002730 none  engine assy
47 100 000000 04144900 $1.00 seal washer 6
48 100 000000 90106024 $0.60 hex screw M6 x 8 (or 10)
49 100 000000 15002730 none  engine assy