Select:    Indian Models    Publications
---
History
The history of the original Indian motorcycle began in 1897. Read Mark Daniels excellent article "The Fall", the full history of Indian, at http://www.icenicam.ukfsn.org/articles5/art0084.html. This is the best Indian History article ever!
History of the Indian Four Stroke Moped:  Around 1977 American Moped Associates (AMA) purchased the Indian trademark from bankruptcy court for $10,000. 
Excerpt from Mark Daniels "The Fall" article: Across the East China Sea in Japan, Honda had decided to discontinue its old four-stroke mopeds and replace these with new two-stroke models.  Following a 10-year production run, the PC50-K1 was pensioned off in February 1977 … but the engine design and a number of cycle ancillary components were licensed on to AMA to manufacture again at their Merida factory in Taiwan. The result was the Indian AMI–50 'Chief', which first appeared on sale in 1978. Now it's fairly obvious there are some people who're going to say this is just a PC50 come back to haunt us, but it's really not!  The engine is clearly a mirror design, but absolutely everything has been re-made, and not a single original Japanese Honda PC50 component or fitment has been employed.  It's a completely new motor manufactured to the licensed blueprint, and everything is different.
 More about early 1970's  Honda PF50 and PC50 versions is here: http://www.geocities.ws/motorcity/9748/pf50_eng_general.html

American Moped Associates had many accessories made with the Indian name, Indian saddlebags, Indian tools, Indian batteries, Indian carburetor cleaner, Indian cable locks, Indian shirts, Indian belt buckles, Indian patches, Indian decals, Indian lighted signs, Indian banners, Indian bin box labels, even Indian tires (made by Cheng Shin), and the optional aluminum 8-ray wheels made in USA by Sport Mag II. AMA had planned a 2-speed transmission for the 1981 redesigned Indian mopeds, but it never came to be. American Moped Associates, at 1852 Langley Ave, Irvine CA 92714, sold out to Carmen Deleone and his Leone Accessories company in 1982.
Leone Accessories had Indian saddlebags, Indian boxes, Indian shirts, Indian belt buckles, Indian patches, Indian decals, and the optional aluminum 8-ray wheels made in USA by Sport Mag II. Carmen Deleone only bought American Moped out for the use of the Indian name, as the mopeds were sold down and not produced. That's why there are no 1982 or later Indian mopeds. Leone Accessories, about a year later, acquired Derbi Motor Corporation of America (DMCA). See Derbi Parts for more info on that.
While the wholesale sales of Spanish made Derbi mopeds went well, DMCA's plans for a new Indian moped and full size Indian motorcycle for 1984 failed miserably. A few Manco go-karts were sold with "Indian 4-stroke" stickers affixed. Then the Indian name was sold off. DMCA continued to import and distribute Derbi mopeds, made in Spain, to USA moped dealers, and to supply Indian moped parts and accessories until 1989-90.
Merida Indus

try Company was started in Yuanlin (Taiwan) in Sept 1972 by Ike Tseng (1932-2012). Ike was annoyed at the poor quality of Taiwan made bicycles in 1971. It was so bad that some American bike shops at the time refused to repair Taiwan bikes, because they would not stay fixed. Pedal hard and the pressed-together DNB rear 10-speed hub would twist, throwing the rim out of true. Much of the steel was soft and weak, so on threaded things, even normal tightening would strip the threads. Ike Tseng was smart enough, as both an engineer and a business person, and determined to improve the quality of Taiwan bicycles. He also had connections in the US. Who ever started American Moped Associates probably knew Ike Tseng and/or his high-quality-Taiwan-bicycle company. 
Excerpt from http://www.merida.com/en_int/about-us-94.html, what "Merida" means, as told by Michael Tseng, current CEO and son of Ike Tseng: The man whose life motto was "move with passion and courage" chose the name "Merida" intentionally: The rough translation of the three syllables "Me-Ri-Da" means that the company's intention is to manufacture only beautiful and high-quality products enabling anyone to reach her or his destination as pleasantly as possible. 
Excerpt from http://en.wikipedia.org/wiki/Merida_Bikes: Merida Industry Co., Ltd (MIC) is a Taiwan-based bicycle design, manufacture, and sales company. It was started in 1972 by Ike Tseng. The original layout was based on the Raleigh Nottingham factory as Merida began by making Raleigh bikes for the North American market. Ike was a very talented engineer, and the company grew as a well-respected OE manufacturer making many well-respected brands. Ike died in January 2012, the company is now run by his son Michael Tseng.
Merida is a gl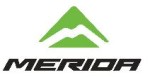 obal player in bicycle design and manufacturing, making 2.2 million bicycles a year at 5 factories: 1 in Taiwan, 3 in China and 1 in Germany. As at 2012 the company is a public listed company on the Taiwanese stock exchange, quoted at approximately £350 million, making it one of Taiwan's biggest companies.
Merida now produces mainly its own Merida-branded bikes, which are present in 67 countries around the world, or selected brands which it has a financial interest in, e.g. the German brand Centurion. In 2001, Merida bought 49% of Specialized for a reported US$30 million, although its CEO and founder Mike Sinyard remained majority owner.
Merida has been co-sponsor of the Multivan Merida Biking Team, with athletes such as Jose Hermida and Gunn-Rita Dahle Flesjå, and of bicycle racing events such as the TransUK and TransWales mountain bike races. Since 2004, the team has been scoring over 30 World Cup wins as well as Olympic gold and silver medals. In 2013 Merida became co-sponsors of the Pro-Tour Lampre-Merida road racing team.
---
Other Resources
Here is a link to a Moped Army forum with some Indian manuals, articles, brochures, and (maybe) parts sources:
http://www.mopedarmy.com/forums/read.php?1,232645,232645#msg-232645