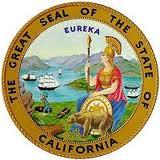 In California, motor vehicle air pollution laws are in the
California Code of Regulations (CCR)

.
It says any street motorcycle with a
49cc or under engine is exempt
from California Exhaust Emission Standards.
13 CCR § 1958

Exhaust Emissions – Motorcycles
Cal. Admin. Code tit. 13, § 1958
Barclays Official California Code of Regulations
Currentness
Title 13. Motor Vehicles
Division 3. Air Resources Board
Chapter 1. Motor Vehicle Pollution Control Devices
§ 1958.

Exhaust Emission Standards

and Test Procedures – Motorcycles and Motorcycle Engines Manufactured on or After January 1, 1978.
(a) This section shall be applicable to motorcycles, motorcycle engines, and the manufacturers of either motorcycles or motorcycle engines produced on or after January 1, 1978. Motorcycles and motorcycle engines are excluded from the requirements of this section if:
(1) The engine displacement is less than 50 cubic centimeters, or
(2) An 80 kilogram (176 pound) driver cannot
(A) start from a dead stop using only the engine, or
(B) exceed a maximum speed of 40 kilometers per hour (24.9 miles per hour) on a level paved surface.
(b) Exhaust emissions from new street-use motorcycles and motorcycle engines, subject to registration and sold and registered in this state, shall not exceed:
Table of Standards
| | | | |
| --- | --- | --- | --- |
|   | Engine | Exhaust Emission Standards (g/km) |   |
| Model-Year | Displacement | Hydrocarbon (HC) | Carbon |
|   | (in cubic centimeters) | + Oxides of Nitrogen (NOx) | Monoxide |
| ================ | =================== | ============================ | ======== |
| 1978 through 1979 | 50 to less than 170 | 5.0 (HC only) | 17 |
|   | 170 to less than 750 | 5.0+0.0155(D-170)  (HC only) | 17 |
|   | 750 or greater | 14 (HC only) | 17 |
| 1980 through 1981 | All (50 cc or larger) | 5.0 (HC only) | 17 |
| 1982 and later | 50 cc to 279 cc | 1.0 (HC only) | 12 |
| 1982 – 2/28/1985 | 280cc or greater | 2.5 (HC only) | 12 |
| 3/1/1985 – 1987 | 280cc or greater | 1.4 (HC only), as a corp. avg. | 12 |
| 1988 through 2003 | 280cc to 699cc | 1.0 (HC only), as a corp. avg. | 12 |
| 1988 through 2003 | 700cc or greater | 1.4 (HC only), as a corp. avg. | 12 |
| 2004 through 2007 | 280cc or greater | 1.4 (HC+NOx), as a corp avg | 12 |
| 2008 and later | 280cc or greater | 0.8 (HC+NOx), as a corp avg | 12 |
Find out more about the California Motor Vehicle Pollution Laws »