Walk along streets and trails or through wild brush. Hear the many different bird sounds, owl hoots, ground squirrel chirps, and coyote calls. Smell the sweet wild flowers, aromatic sages and sagebrush, and pine trees. See beautiful things and learn about them.
About half of wild plants in this area are natives that have been here over 10,000 years. They all all say "We have been here longer than you can imagine. Enjoy us but don't destroy us." The other half are non-natives that were brought here recently in the last 300 years.  They all say "Move over, we're your new neighbors". Some of the new neighbors are harmless and some are harmful.
      Table of
Contents:
  1.

Puente Hills

1a

2016-08

Puente Oil Field




1b

2019-05

Puente Oil Field
  2.

Orange Hills

2a

2018-08

El Modena Open Space
  3.

West Coyote Hills


3a

2017-02

Rosecrans Trail



3b

2019-03

Coyote Oil Field East




3c

2019-04

Ralph B. Clark Park




3d

2019-04

Coyote Oil Field West




3e

2019-05

Ralph B. Clark Park




3f

2019-05

Castlewood Trail




3g

2019-05

Hawks Pointe Trail




3h

2019-06

Bastanchury Creek




3i 

2019-06

W

ard Nature Preserve
  4.

East Coyote Hills


4a

2016-09

Brea Dam Rec. Area



4b

2019-05

Hillcrest Park




4c

2019-05

Laguna Lake Park




4d

2019-05

Brea Dam Park




4e

2019-06

Juanita Cooke Trail




4f

2019-06

Fullerton Creek
  5.

Urban Flatland

5a

2019-05

Myrons Mopeds




5b

2019-05

La Mirada U.P. Tracks
  6.

Coastal Flatland




6a

2018-05

Cal State Long Beach




6b

2019-06

Coyote Creek Park
  7.
Sources and Discussion
---

1.

Puente Hills

,

Rowland Heights CA
Rising up from the urban flatland of eastern Los Angeles County and the northern edge of Orange County, are the Puente Hills, running east-west from Whittier to Diamond Bar. The eastern end is mostly undeveloped, an old oil field that became cattle pasture. The southeast part of the oil field near Brea is still active.
---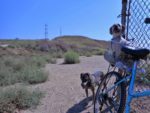 1a.

August 28 2016 

Puente Oil Field

The eastern trail head starts at the top of Roland Heights, on the ridge, at the end of Vantage Point Dr. The summit nearby was once a missile launch site during the Cold War. Now most of the open land there is a cattle ranch. 
---
1b.

May 13 2019 

Puente Oil Field
---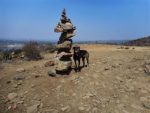 2.

Orange Hills

, Orange CA 
Rising out of the flat land of the eastern Los Angeles basin, southeast of Anaheim, are the Orange Hills, known to geologists as the El Modena Volcanics. Part of those hills is a nature preserve, the El Modena Open Space.
---
2a.

August 26 2018 

El Modena Open Space

These hills are cores of ancient volcanoes, where the molten basalt rock intruded up into the sedimentary layers. As the rock reached the surface, gas bubbles formed, like they do in carbonated beverage. So much of the rock there now is dark and full of round holes 1/16 to 1/2″. In some places groundwater later filled the holes and eventually left quartz crystals lining the walls of the bubble holes. Later the sandstone eroded away exposing the lava plugs. Some of the lava rock later eroded forming a chain of cone-shaped hills.
---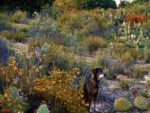 3.

West Coyote Hills

, Fullerton CA
Rising out of the urban flat land in the eastern Los Angeles basin, northwest of Anaheim, are the Coyote Hills. Part of those hills is the largest undeveloped piece of land in Orange County, owned by Chevron. It was an oil field from about 1900 to 1970, with over 100 wells. Now it's a nature preserve, home to the endangered tiny gray California gnat catcher.   
---
3a.

Feb 06 2017

Rosecrans Trail West End

This trail starts across the street from Ralph B. Clark Park, and climbs north up the hill. Part of this trail is on the original 1920's paved road through the area. This is the same road shown in photos 3d below that goes off the top of a cliff, called the "road to nowhere".
---
3b.

March 10 2019

Coyote Oil Field – Eastern
---
3c.

April 20 2019 

Ralph B. Clark Regional Park

These photos were taken from inside Ralph B. Clark Park. Parts of that park are nature preserves.
---
3d.

April 27 2019 

Coyote Oil Field – Western
---
3e.

May 10 2019

Ralph B. Clark Regional Park
---
3f.

May 17 2019 

Castlewood Trail
---
3g.

May 22 2019 

Hawks Pointe Trail

Hawks Point is a rock formation, visible for miles, where hawks glide on updrafts. It is 800 feet north of Rosecrans Ave, across the street from Ralph Clark Park. Hawks Pointe is a nearby gated community with nature trails. 

The Rosecrans Trail, maintained by the City of Fullerton, leads to the Hawks Pointe trail network, maintained by the private community. The area was first Emery Ranch, then Coyote Oil Field, then motorcycle riding area, then in the 1970's it was graded and developed. The nature trails area has returned to a wild state with variety and beauty.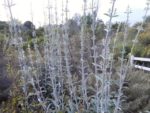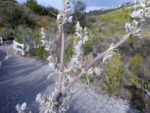 ---
3h. June 3 2019 

Bastanchury Creek
---
3i.

June 8 2019

Robert

E. Ward Nature Preserve
---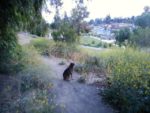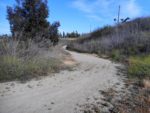 4.

East Coyote Hills

, Fullerton CA
East of Euclid Ave is Eastern Coyote Hills, which is mostly developed residential. 
---
4a.

Sep 18 2016

Brea Dam Recreation Area

This is a beautiful trash-free low-lying natural area, undeveloped because it's a flood control basin. 
---
4b.

May 11 2019 

Hillcrest Park

This wonderful hillside park opened in 1922. It has many trails, stairs, and surprises.
---
4c.

May 18 2019 

Laguna Lake Park
---
4d.

May 21 2019

Brea Dam Park
---
4e.

June 1 2019

Juanita Cooke Trail

This scenic trail through now-residential Fullerton was once the Pacific Electric railroad that carried commuters in red trolley cars between Fullerton and La Habra. Pine, eucalyptus, and other trees were planted alongside the route, that are now old giants over 50 feet tall. 
---
5. Urban Flatland

, Fullerton CA
Wild plants in urban areas are usually called weeds. They grow along railroad tracks or in undeveloped places that are not cared for. The oldest railroad tracks, from the 1800's, have strips of untouched land on either side, that are unofficial nature preserves. This land has never been plowed or disturbed, and contains seeds and plants that were original to that area.
The sides of the BNSF/Amtrak 3-track mainline next to Myrons Mopeds are that kind of nature preserve wasteland. Every May, tall sunflowers bloom, with prickly pear cactus, tree tobacco, wild watermelon and many other smaller plants, all within 500 feet of the shop. Many of the original 1890's telegraph poles with glass insulators remained there until the 1990's.
---
5a.

May 6 2019

Myrons Mopeds

These plants are all within a few hundred feet of Myrons Mopeds.
---
5b.

May 24 2019

La Mirada Union Pacific Tracks

This walk starts at the border between the city of Buena Park in Orange County, and the city of La Mirada in Los Angeles County, on Artesia Blvd and Knott Ave. There the 1800's Union Pacific single railroad track crosses near that intersection, heading northwest toward downtown Los Angeles. Along the sides are places where wild plants thrive in dense patches, maybe 50 by 100 feet, where one kind of plant dominates. Patches of Wild Rye Grass, Common Thistle, Horseweed, Napa Thistle, Bristly Ox-tongue, Sow Thistle, Stinging Nettles, and Milk Thistle are all there.
---
6a.

May 19 2018 

Cal State University Long Beach

From Wikipedia: Puvunga (alternate spelling: Puvungna) is an ancient village and burial site thought to have once been populated by the Tongva (Gabrieliño) people, who are the indigenous inhabitants of the region around Los Angeles, California. The site is located near the Earl Burns Miller Japanese Garden on the campus of present-day California State University, Long Beach, along the banks of a now channelized creek, about three miles (5 km) from the Pacific Ocean. Puvunga is believed to be the birthplace of Chingishnish, the major deity or culture hero in Tongva mythology, and claimed as sacred, by some Tongva tribal council representatives.

A portion of the site (which is unmarked with a sign or other informational marker) comprises a natural area located at the edge of campus, near a parking lot. At one time this site had a natural spring, and the location is sometimes referred to as Puvunga Spring. Another similar (but larger) Tongva site is Kuruvungna Springs on the grounds of University High School in Los Angeles.

This ancient village and burial site is on the US National Register of Historic Places.
---
6b.

June 16 2019

Coyote Creek Park, Los Alamitos

A few miles after Coyote Creek flows southwest past Coyote Hills, it merges with the San Gabriel River south of Katella Ave, in northeast Long Beach. A little before that, north of Katella, is a long thin nature park along the concrete channel. It is property of So Cal Edison because it is under power lines, but is maintained by the city of Los Alamitos. The sign there says watch your pets, coyotes frequent the area. They commute in the concrete channels, avoiding the traffic and urban sprawl.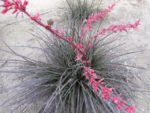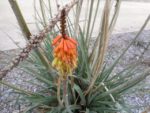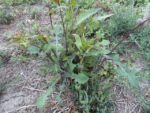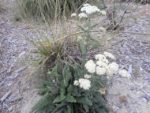 ---
7.

Sources and Discussion
1. Google
1. Images
2. Wikipedia
3. calflora.org

3.

California
3. wild plants

Nature is wonderful! It has endless variety and beauty. Living things have countless strategies for survival. It's enough just to experience nature for it's soothing effect. It's more satisfying to understand what everything is, how it works, and how it got there.

Walking down a (Fullerton, California) nature trail, and being able to name and explain the plants seen from the trail, was the goal of this botanical study. Knowing which plants belong there and which ones don't is insightful. Humans have inadvertently brought plant seeds from around the world. Some of those have taken hold and taken over, pushing out the native plants. The yellow fields of wild mustard or wild cabbage in particular are some of those ruthless invaders. It is beautiful to look at that carpet of yellow, but like looking at distant lightning or a tornado, there is also unseen damage and destruction.