Click image to select: 
---
History:  (from Wikipedia) Dell'Orto is an Italian company, headquartered in Cabiate, specialized in the construction of carburetors and electronic fuel injection (EFI) systems. The company was founded in 1933 as "Società anonima Gaetano Dell'Orto e figli" (Gaetano Dell'Orto and Sons). Their first products were carburetors that came fitted as standard to new vehicles. Shortly before the second world war they began producing carburetors with aluminum bodies for use in motorcycle racing. At the beginning of the 1960s Dell'Orto was producing OEM carburetors for the Fiat group, as well as other Italian and foreign constructors (i.e.Flandria, Belgium). At the end of the 1980s, under the supervision of Luigi Dell'Orto (son of Gaetano), the company's first injection systems were released.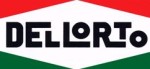 The company is today one of the worldwide leaders in the field of carburation and is present in the sport field as partner of Gilera that participates in the Road Racing World Championship. It is also used in every modern Derbi, Aprilia, and Yamaha 50cc model.
Dellorto carburetor types: The first few letters of the ID number are the type. Carburetors for each type are made in different sizes and configurations, but look mostly the same and share most of the same parts.
Dellorto threads are not standard metric. Many Dellorto carburetor bodies get ruined or "stripped" by using the wrong screws. 
Bolt Size >       3mm  4mm   5mm   6mm
regular pitch     0.50   0.70    0.80   1.00       So the Dellorto M4 is coarser (threads farther apart) than normal M4
Dellorto pitch    0.50   0.75    0.75   1.00       and the Dellorto M5 is finer (threads closer together) than normal M5