History
---
Motobécane began in 1922 as two French engineers, Charles Benoit and Abel Bardin. The name "moto" is French slang for motorcycle, and "bécane" French slang for bicycle. Their first motorcycle in 1923 was a 175cc two-stroke. 
Motorcycles: From Wikipedia: For many years Motobecane was France's largest manufacturer of motorcycles. By the 1930s Motobecane was producing a best-selling range of motorcycles. In 1933, they produced their first four-stroke machine with 250 cc (15 cu in) capacity. During the 1930s, they manufactured a longitudinal shaft-drive inline-four engine motorcycle in 500 and 750 cc (31 and 46 cu in). During this period, the firm entered road racing competitions and won the Bol d'or endurance race.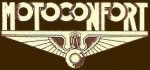 Motoconfort: Motobecane has a division called Motoconfort. That name appears on some of the original parts and packaging. "Confort" is French for Comfort. In Paris France 1930's there was a legal limit on the number of moped shops a single brand could have. Motobecane was so big that they created a second brand so they could have twice as many shops selling their motorcycles. That's why most of their motorcycle and moped models were made with both Motobecane and Motoconfort branding.
After the Second World War they produced the single-cylinder D45 motorbike that filled a need for cheap transportation. The successor was the Z46, equipped with modern suspension. Like many European motorcycle manufacturers, the 1960s proved difficult for Motobécane as cars became affordable. As a result, sales decreased. The arrival of cheap, efficient Japanese motorcycles also hurt sales. They continued to produce two-cylinder 125cc motorcycles throughout the 1970s. They also manufactured a small number of two-stroke, three-cylinder 350cc and 500cc bikes.
For a time in the late 1970s and early 1980s, the company competed in Grand Prix motorcycle racing claiming several victories in the 125cc class and finishing second in the 1980 125cc road racing world championship.
Bicycles: Motobécane was a major manufacturer in the French bicycle industry.
Mopeds: Motobécane introduced a moped, the Mobylette, in 1949; over the next 48 years (1949-1997), Motobécane manufactured 14 million Mobylettes. Mobylette means "little mobility". All Motobecane mopeds are referred to as Mobylette's, but not Motobecane bicycles or motorcycles. In India the same model was manufactured under licence by Mopeds India Ltd under the name Suvega. In the UK Raleigh manufactured Mobylettes under licence from Motobecane as the "RM" series from 1960 until 1971. In the late 1960s these "Raleigh" mopeds accounted for 38% of UK moped sales. American retailer Montgomery Ward imported Motobecane mopeds and sold them via their catalog under the Riverside captive import brand. In 1974 Motobecane purchased Velo Solex.

Motobecane America: From 1974 to 1980 Motobecane America, Ltd was the US importer-distributor for Motobecane mopeds.
Dimoby: In the 1950's, Motobecane pioneered the dual action clutch system, where one clutch makes the engine start when the rear wheel speed becomes fast enough, and the other clutch makes the bike move forward when the engine speed becomes high enough. They called this dual system "Dimoby". It means "one speed dual auto clutch". What's confusing is the variator models (two speed, dual auto clutch) were not called Dimoby.
MBK: From Wikipedia: 1981, the original Motobécane filed for bankruptcy and was purchased by Yamaha Motor Co. Ltd. and reformed in 1984 as MBK Industrie. After being acquired by Yamaha, MBK began producing scooters but continued producing mopeds, becoming a force in French moped racing.
In 1989 Yamaha had acquired 99% ownership of MBK. MBK produced mopeds called Mobylette until 1997. Then MBK mopeds were called Club until 2002. After that MBK only produced scooters.
Motobecane USA: In about 1986 Motobecane USA purchased the Motobecane name and 1970 logo. They import a wide range of bicycles from Taiwan manufactured by Kinesis Industry Co. Ltd. under the Motobécane trademark.
World Leader: Motobecane produced 14 million Mobylette mopeds for 50 years! They had a model line for every major country in Europe and on most of the Earth. The USA portion is less than 10%. In the late 1970's during the moped "boom", in total bikes sold, Motobecane was #1 in the world, Peugeot was #2 and Puch was #3. 
MCF: Many more Motobecane mopeds and motorcycles can be found in  Motobecane Club of France. Much credit is due to the MCF for their beautiful extensive collection of quality images of vintage sales brochures, and PDF files of vintage parts manuals.