Jawa Manuals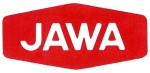 Welcome. Jawa parts before the 1980's, were all made by suppliers from Eastern European countries, probably mostly from within CSSR (Czecho-Slovak Socialist Republic). Trade with Western Europe was restricted. So instead of sourcing their components from Germany, Italy, France like other moped makers, they had to get things from Eastern Europe or USSR suppliers or make their own. Yet they did export the finished product to the US and many European countries.    
By 1980 Jawa mopeds, US models, had Domino controls with CEV lights and switches, both made in Italy.
---
This parts book had many pages from the earlier Babetta 28 book that were not updated. It was for the 206 and earliest 207 with a rigid frame (no swing arm), because it did not include any of the parts specific to the swing arm models, like the rear shocks. But most of the Jawa mopeds first sold in the US starting in 1976, were the 207 with a swing arm frame. So there was confusion when US moped dealers ordered center stands and got the wrong kind. The misleading parts book explains why there are leftover rigid frame new parts.  
Each of these seven manuals has things that the others do not. Combining them increases completeness and reduces repetition,  errors and omissions. 
This late-207 parts manual, dated 1979, is for 1979-83 American Jawa models. But it does not include any of the parts unique to the top tank models, "Supreme 2" and "Supreme 3". There must have been a supplement for that, sent to dealers in 1981-82. Myrons Mopeds is missing that sheet, which would have shown the top gas tank (that looks like a Puch Magnum), long seat, and other Supreme-only items.
This late-207 parts manual, from jawamoped.com, is the source of the part names or descriptions. The English words are British rather than American English. It says "tyre", "mudguard", "sealing" instead of "tire", "fender", "gasket", for example. Some alternate American English descriptions are added to the right in aqua blue. In some places, to save space, the original British English descriptions are removed, and only the MM-made aqua blue descriptions are shown. This manual is the source of the more complete descriptions with millimeter sizes included on hardware items. It also has both old and new part number for most items.