Select: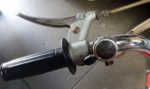 .
A. Handlebar Switches
Separate from controls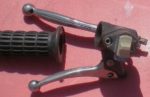 .
B. Handlebar Switches
Integrated into controls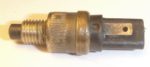 .
C. Brake Light Switches

.
D. Switches not on the handlebar
All in One means all of the buttons in one switch unit: lights, horn, and engine stop. Most 1950's-60's mopeds had an "All in One" type switch, either CEV, Aprilia, or others, mounted on the left handlebar.
USA switches: Before 1972, on motorcycles and motorized bicycles, switches did not have to meet US DOT requirements. They did not have to be in a certain place. They did not have to say what they were for. They did not have to be reachable without letting go of the handlebar. But after 1972 they did have to meet those safety requirements. 
Original Equipment Manufacturers (OEM)
---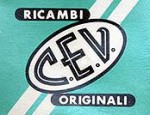 From HB4.com  Fratelli Pagani was born in 1906 in Milan and evolved together the Italy's evolution throughout the XX century. It was the first factory of batteries in Italy and began to invest for design the first hand-lamps. It started a wide range of innovations still in use: birth of first case, birth of first anti-black-out lamp, invention of first headlamp, creation of dynamo lamp.
Following the opening of the headquarters in Venegono Superiore (VA) in 1937, the C.E.V. brand was born (Constructions Electromechanical Venegonese) for the production of on-board instrumentations for aeronautic purposes. In the '50s, in Milan, the production of batteries stopped and the production efforts focused on the creation of flashlights and lamps. Instead, in Venegono, the production of equipment and headlights went on for motorcycle market. In the '70s, CEV company produced mainly for great customers including some international leaders in the batteries and lamps sectors and joined in the distribution process of Italian and foreign large organised distribution networks.
In 2001 CEV was acquired by Zadi Group. 
---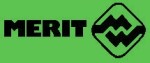 In 1966 Merit Werke began in Germany, then later moved to Malta, in the Mediterranean. They still make automotive switches, with the same MW logo, but with the name Merit Malta.
---
Italian made Aprilia electrical components were on 1960's and 70's motorcycles.
---