Demm    

made in Italy by Daldi e Matteucci Motori

      Demm 1-speed engine

The S.p.A. Fratelli Daldi & Matteucci motorcycle factory was at Ufficio Commerciale Moto, Via Pirelli 16/A, Milan, Italy.
Daldi e Matteucci Motori (DEMM) began in 1953 in Milan, Italy. Their mostly 49cc two cycle engines were used by other marques, such as Legnano and Testi.
Late 1950's In the mid fifties Demm produced a 49cc model called a Dick-Dick. In the late 1950's UK, Bert Fruin built his own motorcycles and used the Demm 3M engine in his racing machines. The "Fruin Dartella" bikes raced in the Isle Of Man TT and at many other UK circuits. The 49cc 3-speed manual grip shift highly modified Demm Dick Dick engine also achieved a speed record of 89mph, according to Sheldon's Emu.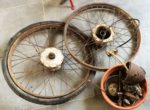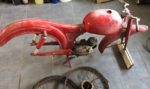 Demm fork: It can be seen from these photos that some things from the late 1950's are also on late 1970's models. The 1958 Demm fork with cast aluminum top yoke and 3-bolt handlebar clamp, is the same as on a 1977 Demm Smily, except for the curved headlight mounts are made straight. This short fork is only on Demm, and is unique. The way the fender is mounted is unlike most other 1970's mopeds.
Demm magneto: The photo of the red 1958 Demm shows a Dansi flywheel-magneto-generator, the same as on 1970's Italian mopeds. It might be an 80's replacement, because most 50's-60's mopeds had cast aluminum flywheels, not stamped steel. In the 1960's Demm mopeds had CEV 6080 magnetos, with internal spark coil and aluminum flywheel. In the late 70's on US models, Demm mopeds had CEV 6933 magnetos, with external spark coil, external ignition ground, and stamped steel flywheel. See CEV magnetos.
Demm carburetor: In the 1960's Dellorto carburetors on unlimited 50cc engines were bigger UA-type with side-mount float reservoirs that could rotate to any angle. In the 1960's Dellorto carburetors on limited 50cc engines were smaller SHA-type with bottom-mount fixed float reservoir. In the mid-1980's some of the metal parts (inlet banjo, carb top, float bowl) of the SHA carburetors became black plastic. That black plastic float bowl on the red 1958 Demm is obviously a 80's replacement. The original carb was something like a Dellorto UA16S like on a 1965 Benelli Fireball.
Demm gas cap: The rare 1977 Demm Smily black plastic gas cap, with M50 x 1.5 external thread, is the same as on some 1960's Italian motorcycles, such as some 1965 Aermacci (Harley Davidson M50), 1965 Benelli (Wards Riverside), 1970's Fantic (Concord XKE). See Gas caps
---
Demm mopeds (US models)

ZSN: Demm was first imported and distributed in the US by ZSN (Zelloe, Sgro, & Neiner, Inc. 351 S Raymond Ave, Fullerton CA 92635 USA), from late 1976 to about 1978. The Demm Scout, with stainless fenders, came from an eastern US distributor, somewhere, possibly ZSN east, PO Box 3176 Annapolis MD 21403 USA. There was also a Demm Smily 2, with ape hangar handlebars and a high back solo seat.
Grycner: All of the Demms in California USA are the Smily model, with white gas tank and fenders. Some of those are labeled as "Grycner". They were distributed by Grycner Leisure Group (aka Grycner Motors Corporation) 301 Tamarisk Rd, Palm Springs, CA 92262 USA. Grycner is also a two or three wheeled Taiwan made moped with a Sachs or Minarelli engine.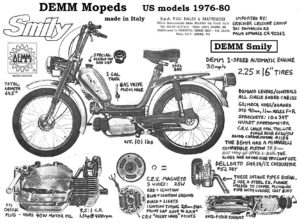 Here is the genuine excellent line drawing exploded view of the Demm one speed automatic moped engine. It is similar to a Minarelli V1. The piston assembly interchanges Minarelli but the individual rings do not. The clutch looks similar. The clutch shoes/weights are the one-piece-molded kind, like Benelli.
The rotation of the Demm flywheel (left side) is anti-clockwise, opposite of Minarelli V1. 
The start cable attaches in a backwards way, where the conduit stops at the moving lever arm, and the pinch bolt is fixed, opposite of Minarelli V1.

Demm Smily components: Demm 1-speed engine 1.5 hp, Dellorto SHA 14/12 carburetor #52 jet, CEV bullet headlight, CEV round chrome switches, Domino chrome controls, Grimeca hubs and 90mm drum brakes, CEV 6933 magneto, CEV or Huret speedometer with LH driver.