Angel            

made in Taiwan by TYM 

      TYM engine
Angel was made by T.Y.M. Industrial Co. Ltd, 554 Chung Cheng Rd, Yongkang Hsiang, Tainan Hsien, Taiwan, ROC. The owners manual uses this address: T.Y.M. Industries Co., Ltd.  No. 2-26, Yeng-Hang, Yong-Kang, Tainan Hsian  Taiwan, Republic of China. TYM made motorscooters and mopeds, including the Speed Bird brand of moped. The importers were the Cham Company, 11853 E. Telegraph Rd, Santa Fe Springs CA 90670, and Enersav, Inc. PO Box 964 Winona MN 55987. The engine, made by TYM, is a copy of a Laura M48 (Holland), but the clutch and reed valve are different.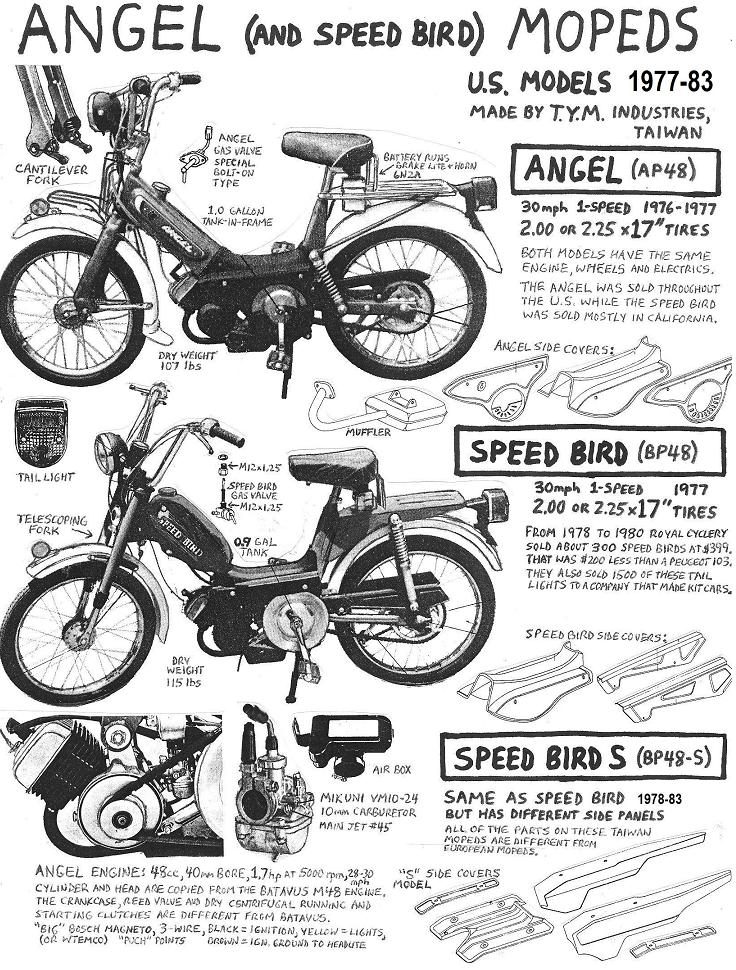 Angel AP48: The early version had stamped sheet metal frame and an old fashioned cantilever fork. 
This is obviously a remake of a 1974 Honda PM50. Most PM50 parts should be the same, but not all.
Angel CP48: This is an AP48 with a telescoping fork and chrome fenders.
Angel BP48: This is a steel tube frame with a separate gas tank. Most (or maybe all) of these models have the Speed Bird brand name.
Angel BP48-S: This is a BP48 with different floorboards, different wiring, and chrome fenders. Some of these models have the Speed Bird brand name and logo.
Some time around 1981, the General Moped Company, Inc became a distributor for Angel mopeds and parts. This very late Angel was given the model name "5 Star" by General, because that was their "line" name in the early to mid 1980's.  This later BP48-S had a bullet headlight holding a bigger Tatung speedometer.
There was also an identical bike, TYM BP48-S, called "United" likeley imported by United Moped in Fountain Valley CA.
Angel and Speed Bird Wiring Versions
The Angel "late" engine wires are visible in this photo.
This is a 4-wire WTEMCO magneto.
Black is "ignition" to coil and kill switch.
There is no external ignition ground like on the earlier Angel wiring version.
Yellow is "main lights".
Red is "battery charging".
Green/yellow is "battery charging ground"
The Angel "early" engine wires are shown in this diagram.
This is a 3-wire WTEMCO magneto.
Black is "ignition" to coil and kill switch.
Pinkish-Brown is "ignition ground" and "lights".
Yellow is "battery charging".
When the head light burns out, the engine looses spark, unless the headlight switch is turned "off". If the head light switch is disconnected, the engine will not run, because the pinkish brown wire is not grounded. Ground it at the engine to restore spark. 

Angel Service Manual – Carburetor Service