Welcome to Myrons Mopeds Sticker Department. The ones that say N/A in the price are not available.
---
Aftermarket Stickers
---
Cimatti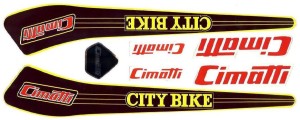 C1. Cimatti City Bike Set 70dpi, 20″ (not avail.)
---
Foxi and Flying Dutchman
---
Garelli Stickers
---
Motobecane Stickers
---
Peugeot Stickers
---
Puch Stickers
---
Sparta Stickers
---
Tomos Stickers
Tomos made the Targa and Targa LX from 1994 to 2001. In 2002 Tomos stopped using the name Targa (because Porsche owned the rights). The decals were the same, except the word Targa became Tomos. In 2002 Tomos also stopped selling the Targa and Targa LX replacement stickers.
In 2002, 2003, and 2004 the Tomos, formerly the Targa, caused confusion by having the same maker and model name. That changed in 2005 with these new graphics and the new model name ST. Two years later, the engine (A35 to A55), engine covers, seat and fork changed in 2007. The ST engine cover side stickers are not used on the 2007-later ST with A55 engine, but the replacement sticker set remained the same.
---
Vespa (Piaggio) Stickers